I am trying to secure definitive information about the date when the 1964 7024025 carburetor was introduced. This carburetor was for use ONLY on 1964 FCs, Cars with Factory AC, and cars equipped with first design Oil bath Air Cleaner – essentially any 1964 factory engine equipped with dual air cleaners.
After 60 years it is very difficult to find carburetors with original parts. Given the rarity of both AC and oil bath cars, the best place to look for these carburetors should be on original 1964 FC engines.
Therefore, if anybody has what they believe to be an original 1964 FC engine, please complete the survey at the end of this post or contact me directly.
We are trying to determine two main issues:
1) Did ALL 1964 FC engines (95/110hp, Std/PG) use 7024025, or did some very early production FCs, perchance, use 7024023/7024024?
2) Can we definitively identify the differences between the 7024025 carburetor and the 7024023/4 carburetors?
Documentation:
1) The 1964 Chassis Shop Manual Supplement was printed well before the introduction of the 1964 Models and contains numerous errors with respect to 1964 carburetors: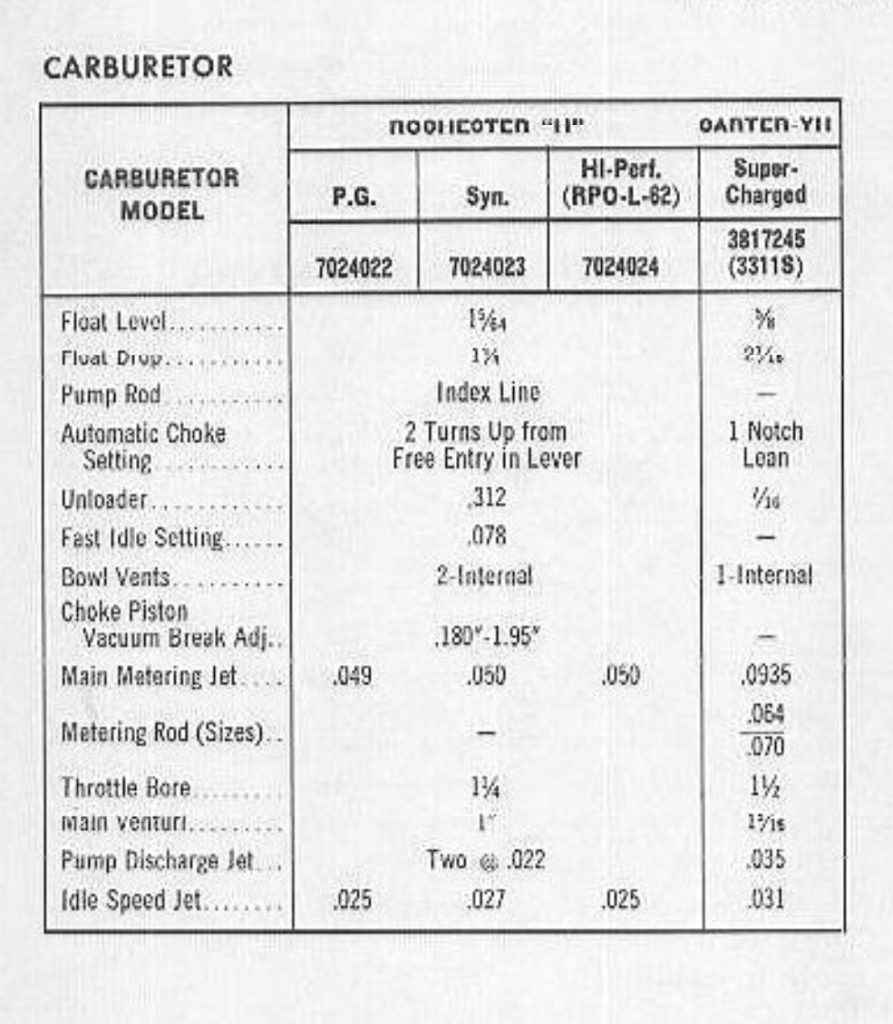 It lists a carburetor that was never actually used (7024022)
It doesn't list the 7024025 Carburetor
It lists different carburetors for the PG and MT low performance engines, even though the same carburetor was used for both.
Most of the listed carburetor specs were changed on production carburetors (Float Level, Float Drop, Auto Choke Setting, Unloader, Main Jets, Idle Jet)
2) 1964 Assembly manuals (car and FC) show 7024025 carburetor in use possibly as early as 9-12-63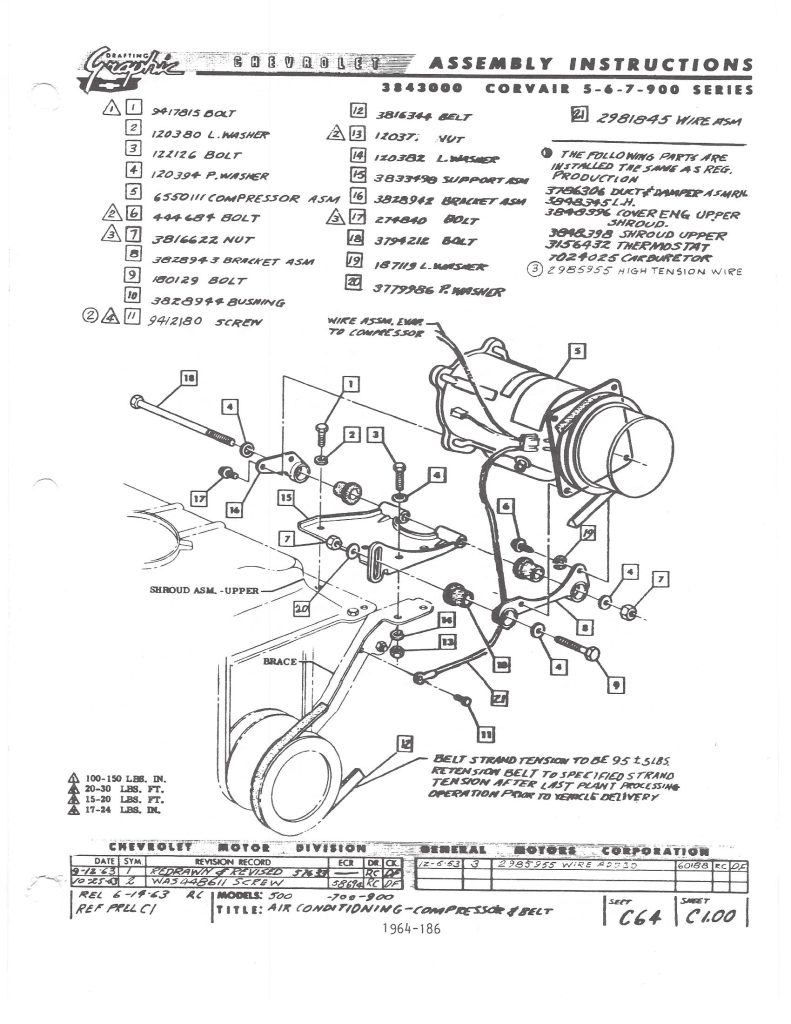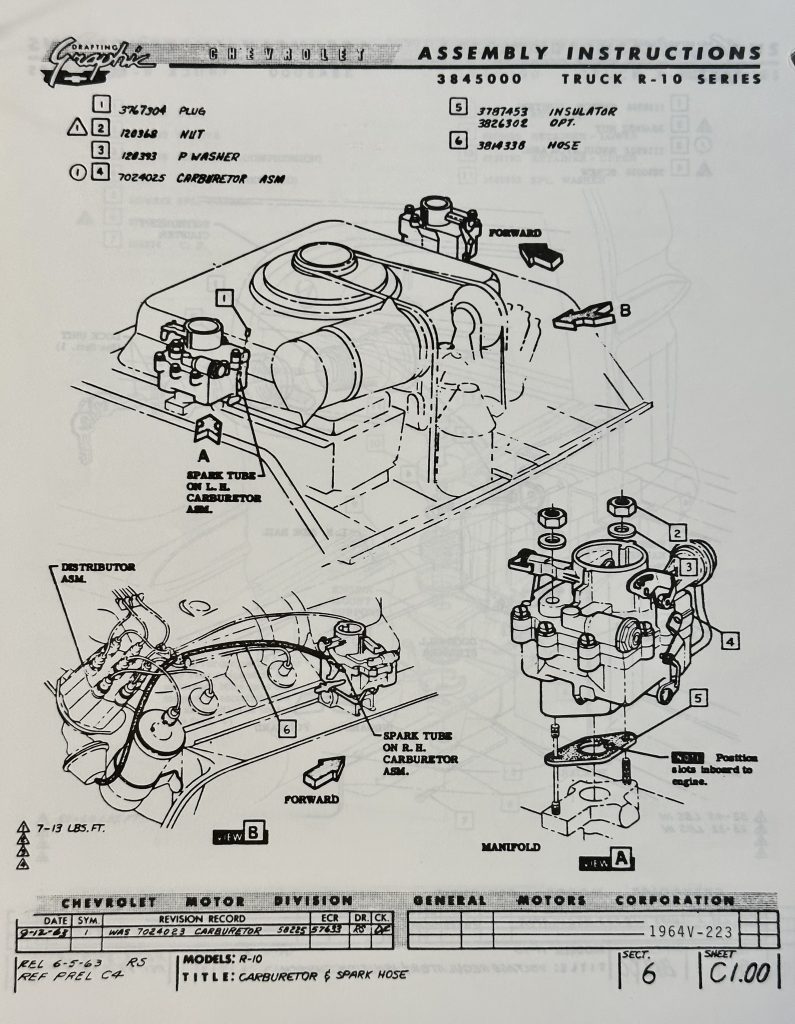 – It's worth noting a couple of things about engine and transmission types with regards to the assembly manual sheets
— Cars – RPO C64 (air conditioning) could be ordered with either 95 or 110 engine, and either 3/4 Spd or PG transmission, but C64 Sheet C1.00 only lists the one carburetor to be swapped. While the car assembly manual does show the use of 7024024 carburetor for 110 engine in Sect L64 Sheet 1.00, that page is drawn earlier than C64 sheet C100 page. This suggests that early in the model production year all factory AC cars may have used the 7024025 carburetor.
— FCs – used 95 or 110 engine with 3/4 Spd or PG transmission, but the FC assembly manual doesn't reference instructions for the 110 engine. However, the fact that on 9-12-63 they changed the std carburetor (7024023) to the 7024025 carburetor implies they could have done the same for the HP engine.
3) Chevrolet Service News November 1963 Edition includes a page revising the specifications and applications for 1964 Carburetors. It is on this page that the 7020425 carburetor is added and stated for use on 'All engines in Corvair "95" vehicles; all 5-7-900 series vehicles w/Air Cond." There is however, an unfortunate error in the table on this page showing the specs for the three carburetors; the first column is "7024022", a number which was never placed into production. It is most likely a misprint and should have been labeled "7024025". We come to this conclusion based on the fact that the main jet size in this column is listed as .053″ and Bowl vents are listed as 3-internal, two known characteristics of the 7024025 carburetor.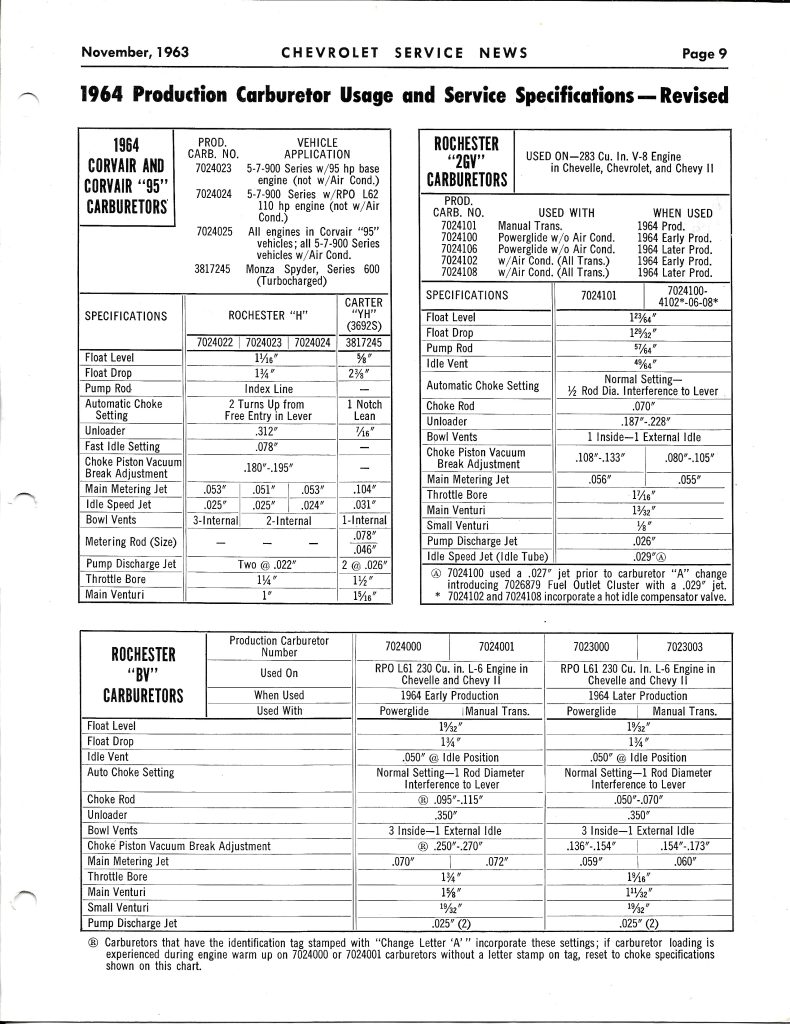 4) A TSB was issued to dealers on Feb 14, 1964 advising them to make modifications to carburetors of cars with dealer installed air conditioning, citing "The change from single air cleaner to dual air cleaners may upset the carburetor fuel calibration and bowl venting…"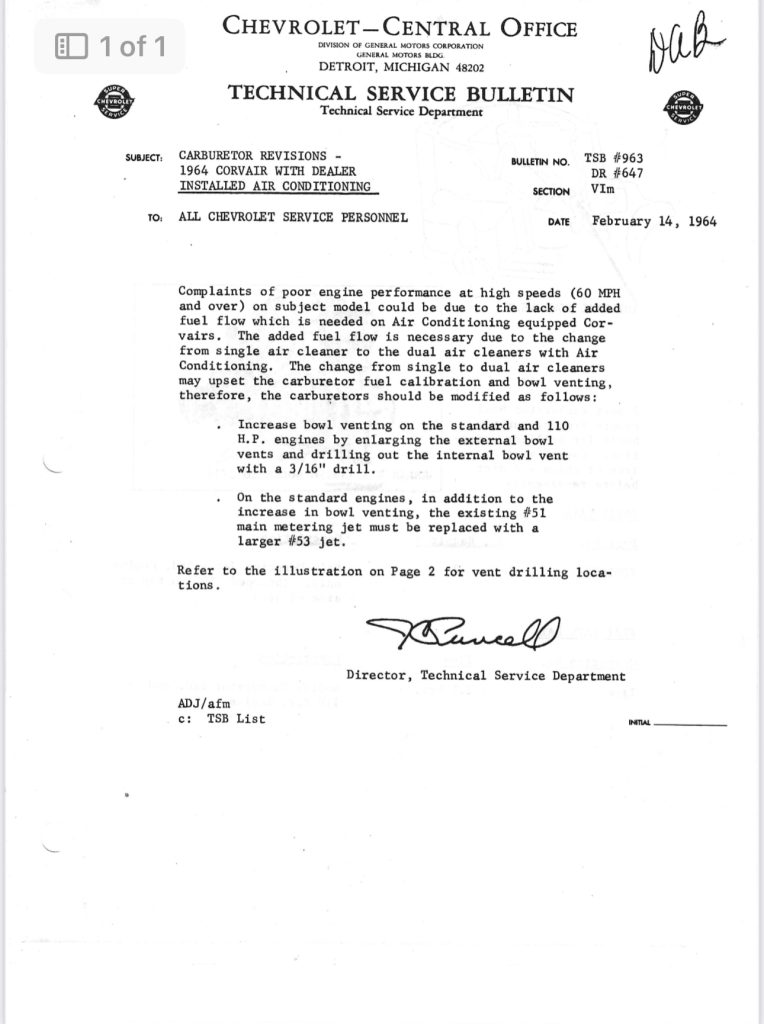 The modifications were as follows:
— Increase bowl venting by enlarging the external bowl vents to 3/16′ and drilling out the internal (duckbill) vent to 3/16″
— On standard (95hp) engines, replace the #51 main metering jet with the larger #53 jet (note that the High performance engine carburetors already had a #53 jet).
Given that dealer installed air conditioned cars would have been built with either the 7024023 or 7024024 carburetors, they lacked the modifications already present in the 7024025 carburetors which addressed this issue. This TSB, therefore, supports the idea that ALL of the 164 cid engines using dual air cleaners (CAC, FC, early oil bath) would either be equipped with the 7024025 carburetor or would have carburetors which needed to be modified as per the TSB.
5) Bob Helt's Books list conflicting information about 1964 carburetor model usage for FCs and CAC with high performance (110hp) engine:
– His first book, "The Classic Corvair" 5th edition, copyright 2001, 2002, states that 7024025 carburetor was used for 95hp FC and CAC engines and 7024024 carburetor was used for 110hp FC and CAC engines. This is most likely incorrect, based on CSN and TSB from Chevrolet.
– His next book, "How to Identify and Rebuild Corvair Rochester Carburetors" copyright 2006, states that the 7024025 carburetors was used for ALL FC and CAC engines. This is most likely correct.
6) March 1, 1964 Parts Book explicitly identifies 7024025 carburetor as correct part for ALL FC and CAC engines (it lists the service number, 7026424, which according to later parts books corresponds to tag number 7024025)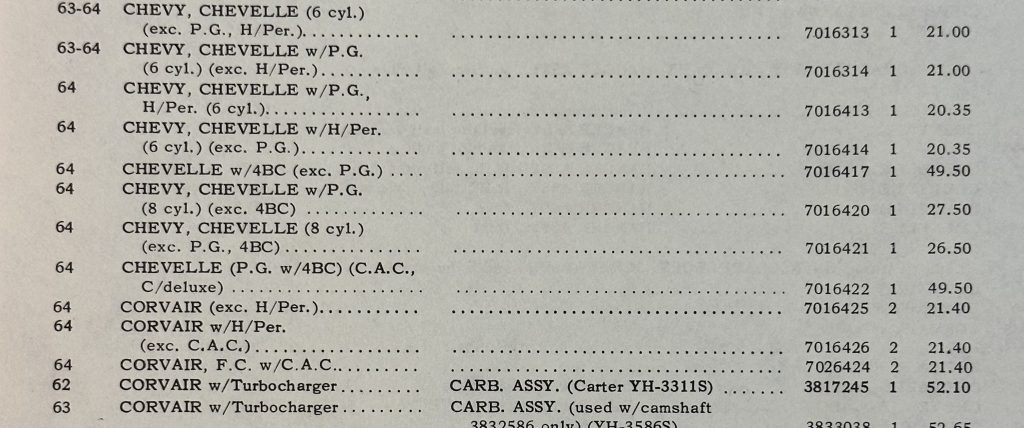 7) 1967 Parts book contains a chart identifying the 3 different 1964 carburetors, cross-referencing tag and service numbers, and application. This chart also clearly states that 7024025 is for "Air Cond. and Truck"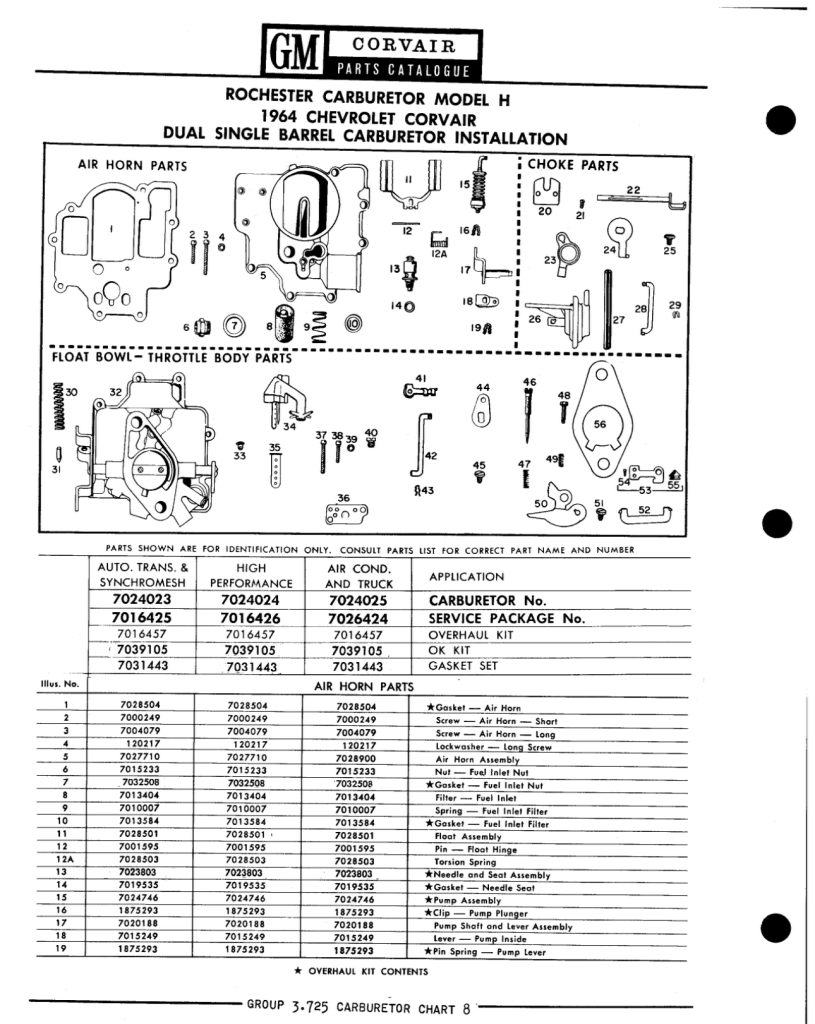 – Per this chart we can identify two differences between the 7024024 (high performance) and 7024025 (CAC/FC) carburetors:
— Air Horn Assembly (top of carb) – presumably increased venting and provision for attaching air cleaner)
— Venturi Cluster Assembly (7028709)
From all of the above we are certain that early in the 1964 production year GM engineers concluded that using the dual air cleaners on the new 164 CID engine caused an issue with fuel calibration and bowl venting and therefore added the 7024025 carburetor for use on these engines (FC, CAC, early design oil bath) or otherwise recommended modification existing 7024023/7024024 carburetors on dealer installed AC cars as noted in the TSB.
We also do not know exactly what changes were made to the Venturi Assembly on the 7024025 carburetor. The exact changes in the Venturi are not documented in any GM literature but are described in Bob Helt's 2006 carburetor book. It is stated in that book that he derived this information from measurements of numerous clusters made by Bob Ballew.
The thrust of my current research is to attempt to determine at what point in time the 7024025 carburetor actually came into service. From the notes in the assembly manuals it seems the change occurred very early in the production year (9-12-63), but we do not know if any early production FCs or Factory AC cars may have been originally equipped with 7024023 or 7024024 carburetors and, if so, were perhaps later modified as per the TSB for dealer installed AC cars.
Also, if we can positively identify a number of 7024025 carburetors as likely being truly original (i.e. not rebuilt), we can possibly open them up to inspect the covers and measure the Venturis to compare with Bob Helt's table.
So please – look for those original FC engines and tell me which carburetors you find!
Sorry, you must login to enter survey data
RPO K47, Heavy Duty Oil Bath Air Cleaner, first became available in the mid-1963 model year. This is how it appeared on cars: K47 Heavy Duty Oil Bath Air Cleaner (mid 1963 to mid 1964 cars) K47 1963 Car Assembly Manual At some point thereafter, it also became available for…

Media Photo AlbumVideo - Factory Exhaust SystemVideo - Tunnel area ASCE Inspection Summary Date Inspected: 07/23/2014Odometer 17495.2 original milesYear: 1964Model: MonzaBody Style: 2 door CoupeExterior Color: Ember RedInterior Color: Red and WhiteEngine: 110 HPTransmission: 4 speedRear Axle: 3.27Positraction: NoVIN: 40927W176657Build Date: 12DStyle: 64-0927Body Number: 36226Trim: 727Paint: 922-QACC: W2LP3C5V Inspected by:…

I acquired the original engine for the John Glenn Corvair with the purchase of the car back in 2001, but the engine was not installed in the car and it was not running. It sat on a cart in my garage for the past 17 years until I finally got…

Pre-restoration John Glenn's Corvair While this site was non-functional for the past few years, I have been posting about the restoration of John Glenn's Corvair on Facebook and The Corvair Center Forum. Until I get around to writing up a more formal accounting, I offer up this post with links…

This article shows how I reconditioned the Air Distributor/Control pod for my 1964 Air Conditioned Convertible (the Glenn Corvair). This is the part of the AC system that is mounted under the radio housings, containing the air vents and the control knobs. For simplicity, I'll refer to it as the…

1961-64 Corvairs with Air Conditioning have two switches, a blower switch on the left side that turns the system on/off and sets the blower speed, and an evaporator temp control switch on the right side that sets the temperature and turns the compressor on/off as needed. The temp control switch,…

All of the cars we have photographed, grouped by Model Year Early Models 1960 1960 500 4 dr Sedan 00569W000407 1960 700 Coupe 1960 700 Coupe 00727W206202 1960 700 4 dr Sedan 0079W101872 1960 Swiss 700 4 dr Sedan SS-609536 1961 1961 500 Coupe 10527K123835 1961 Canadian 700 4 dr…